Are you thinking about booking a plane ticket to the pristine, luxurious beaches of Panama?
There are many decisions to consider when planning your vacation - the ultimate being the time of year in which to plan your visit. Here in Santa Catalina, we welcome you with open arms whenever you decide to check out our paradise. There is a reason to be in Santa Catalina during each month of the year.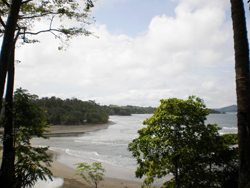 January is the busiest month in Santa Catalina and one of the best times to visit as it is the start of dry season. Panama is a country with two, six-month seasons: rainy and dry, and in Santa Catalina, in both seasons, temperatures hover between 90 and 100 degrees Fahrenheit (30-34 Celsius) during the day and drop into the 70's (20's C) at night.
Santa Catalina offers world class diving, and January is one of the best months of the year for it. Whale sharks can be seen on Isla Coiba during this time, attracting a crowd of SCUBA divers looking to bring in the New Year with the blessing of these gentle giants. January is a month with almost no rain, creating perfect sunny days spent relaxing on the beach and in the crystal blue ocean.
February through May mimic January's dry air, warm sun, and cool waters. Catering to the diving crowd, March is the season of the giant Mobula manta rays which can be seen on Isla Coiba while diving or snorkeling. The waves in this time of year are beginning to improve from the smaller waves of the beginning of the dry season.
Starting in June, Santa Catalina enters the start of rainy season. Rainy season is different every year in terms of when the rain begins, how long it lasts and total precipitation. June calls for a light, much-needed rain, typically once or twice per week. In this time Santa Catalina receives light rain showers during the mid-afternoon, cooling off the atmosphere and creating a relaxing breeze. The end of June is the beginning of Whale season, bringing in the orca and humpback whales to begin calving.
June, July, and August are all busy months in Santa Catalina as tourists from all over the world visit on their summer vacation. The surfing crowd begins to get bigger too as it chases big waves throughout Central America.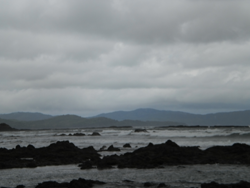 September through November is a quiet time in Santa Catalina because rainy season has officially set in bringing heavy rain and thunderstorms until December. A common misconception of travelers is not to travel through Panama and Santa Catalina during these months, but it is also the best time for world-class surfing as barrel waves greater than four meters tall hit almost every day at the point break.
Santa Catalina provides a reason to visit at any time of year and has just what you are longing for in each season. For more information about Santa Catalina, please visit our homepage at www.santacatalinabeach.com. We hope to see you soon in Santa Catalina, Panama.